Things to do while in Garden County.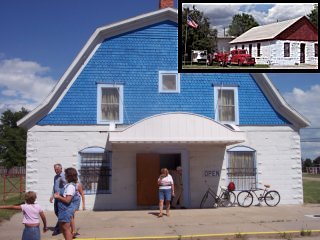 Visit the historic Opera House/Silver Hills Theater Museum and view the Miles Maryott Bird Collection on display there.
Maryott, born in 1873, was an artist, an ornithologist, a taxidermist, a retired baseball player, and a sharp-shooter. Commissioned by the US Government to document migrating birds, he had the distinction of being given permission by the US Government to shoot a Bald Eagle. Maryott spent the last years of his life in prison for the shooting of the local sheriff, in what some called self-defense, others called murder.
(for more information about Miles Maryott, get the book "Miles Maryott, His Life and Times" by Shirley Sullivan. www.shirleysullivan.com)
See the displays at the Rock School House Museum.
www.gardencountymuseums.com
Picnic at the Historic Ash Hollow Spring area, where the pioneers on the Oregon / California / Mormon Trail(s) stopped the in the 1800's.
Visit the museum / visitors center at Ash Hollow State Park. A hiking trail provides access between the visitor center and the spring at bottom of the hill. See Windlass Hill, where a walkway provides access to the crest of the hill to view the deep ruts carved by those thousands upon thousands of wagons that traveled the trail those many decades ago. Explore the old Soddy House at the foot of Windlass Hill. View the early Rock School House on the State Park Grounds. If your lucky enough to be here in early June, attend the "Ash Hollow Pageant"
Walk the Nature Trail at Crescent Lake National Wildlife Refuge. Fish at Island Lake or Smith Lake. Boating (no combustible engines - paddle, air, row ok) on Island Lake.
Tour the 17 Ranch Winery in Lewellen, and taste the award winning wines from the local Nebraska Vineyard. 17 Ranch Winery
Sample the fresh roasted coffee at the Mark Ferrari Specialty Coffees Coffee Shop and Bakery in Oshkosh. Mark Ferrari Specialty Coffee
Stock up on the crystal clear spring water from Sandhills Bottled water. Sandhills Natural Water
Commission a work of art by the Tech & Torch, a student-ran entrepreneurial business which makes Metal signs, plaques, wall-hangings Tech & Torch
Stop by the art and coffee shop The Most Unlikely Place in Lewellen.
Free Swimming Oshkosh and Lewellen
Lighted Tennis Courts, Oshkosh and Lisco
Basketball Court Oshkosh
City Parks
Lisco, picnic tables, shade
Oshkosh, Gazebo, picnic tables
Lewellen, Covered picnic tables, BBQ pit
See the Events Calendar for current events.
See www.gardencone.com/area.htm for more area information